Experience a Unique and Sophisticated Dining Adventure with Flight Plan's Wine and Whiskey Flights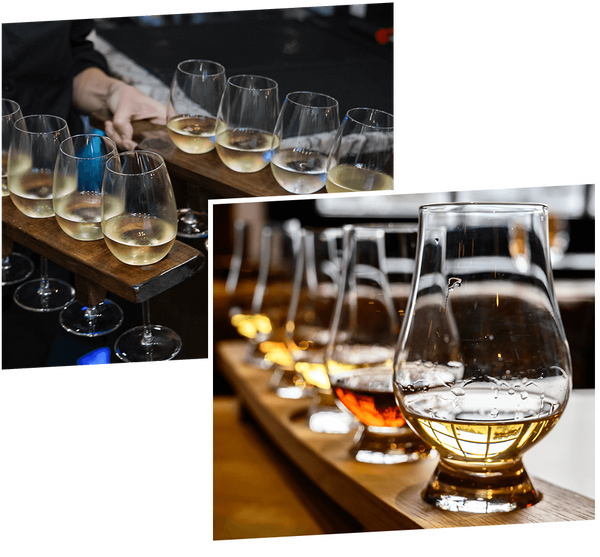 Welcome to Flight Plan Wine and Tapas, where we offer a dining experience that brings together the best of both worlds - wines and tapas. Our restaurant is located in Huntsville, AL, and we are proud to offer our guests an unforgettable experience featuring an intricate wine flight and whiskey flight menu.
Our Wine and Whiskey Flights
A flight is a curated set of miniature servings of a beverage, carefully chosen to demonstrate the variations in flavor and aroma of wines or whiskeys. This option is perfect for those looking to explore and discover new favorites! Our wine flights and whiskey flights offer a unique way to savor, enjoy, and appreciate the intricacies of different beverages.
About Our Flights
Our wine flights are inspired by various wineries worldwide, and each is carefully paired with tapas that complement the flavors, making for a fantastic gastronomic adventure. Each wine flight consists of two ounce pours of four different wines. New flights are created several times a year to create new experiences for our guests. Our whiskey flights are crafted to guide you on a unique tasting journey, and we have options from different regions that are sure to delight enthusiasts. We offer tastings of single malt scotch, bourbon, rye, and more, all carefully curated by the Owners. Our guests can choose their whiskies for each flight from over 35 selections.
At Flight Plan Wine and Tapas, we pride ourselves on our dedication to providing our guests with an unforgettable wine tasting and whiskey tasting experience in Huntsville. Our professional and friendly staff are always available to guide you through our wine and whiskey flights, offering expert advice and recommendations. Visit us today!