Try Our Mouth-Watering Selection of Small Plate Tapas and More!
Discover a world of authentic small-plate tapas and sophisticated dining at Flight Plan Wine and Tapas, located in Huntsville, AL. Our culinary team takes inspiration from the flavors, ingredients, and presentation of tapas-style dishes from around the world with the perfect amount of modern twists.
View Our Menu
* Gluten Free options
*Note: consuming raw or undercooked meats, poultry, seafood, shellfish, and eggs may increase your risk of foodborne illnesses.
Rosemary Ciabatta with Herbed Cream Cheese
Four pieces of Rosemary Ciabatta, Toasted & served with herbed cream cheese and Spanish olives -7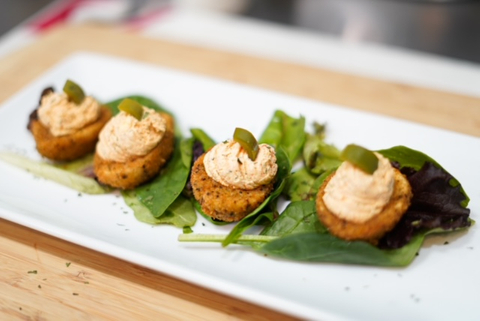 Fried Deviled Eggs
Herb breaded, fried, with crispy bacon & caviar - 9
Spicy version: cayenne and Tabasco, topped with a serrano pepper - 9
Chorizo-Stuffed Dates
Stuffed with Spanish chorizo, wrapped with bacon and deep-fried, balsamic glaze 10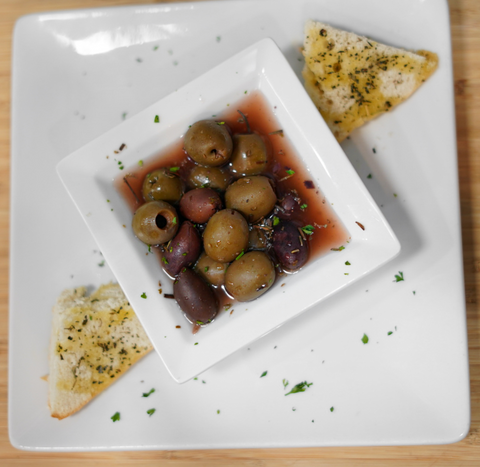 Olive Medley
Marinated in citrus and herbs, served with rosemary ciabatta 6
Herb Crusted Goat Cheese Log
Rolled in herbs, golden raisins & walnuts served with crackers - 10.25
White Wine Cheese Pairing Medley
Brie, Gruyere, Lemon Stilton and Manchego cheese,
served with marinated olives, red grapes, red fig spread & crackers - 13
Add Prosciutto for 5 Extra crackers for 1
Cheese & Sausage Medley
Aged Gouda, Gruyere & Lemon Zest Stilton cheese with Prosciutto, Genoa Salami, Alpine Salami & Sopressata sausage served with marinated olives, red grapes, red fig spread & crackers - 20
Add Smoked Blue Cheese - 4
Red Wine Cheese Pairing Medley
Aged Gouda, Smoked Cheddar, Edam & Manchego cheese, served with marinated olives, red grapes, red fig spread & crackers - 13
Add Prosciutto for 5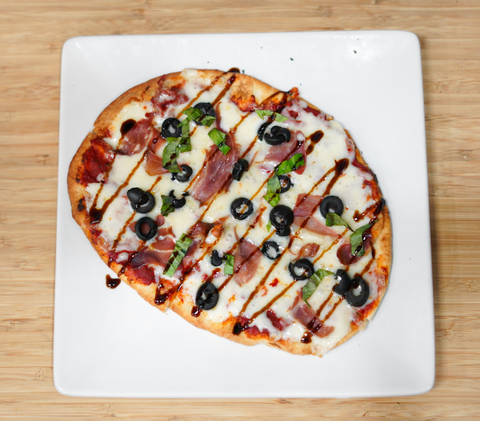 Italian
Prosciutto, black olives, basil & mozzarella - 12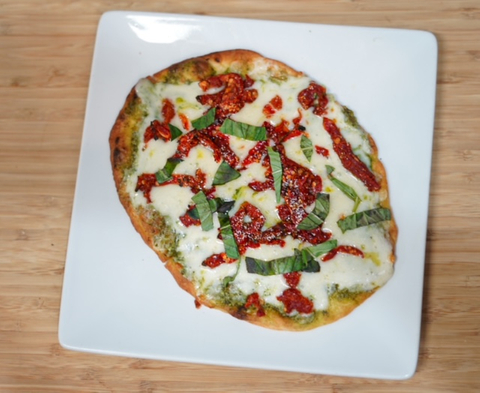 Pesto Margherita
Margherita style with pesto sauce, sun-dried tomatoes, mozzarella, parmesan & fresh basil garnish - 11
Three Cheese
Mozzarella, goat & aged gouda - 11
Steak and Blue Cheese
Seasoned steak slices, grilled red onions, topped with blue cheese and a balsamic glaze - 14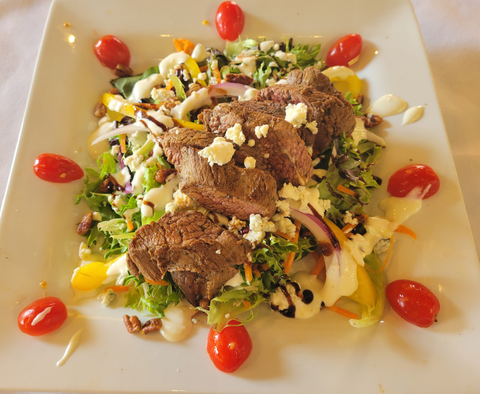 Steak Salad
Seasoned, sliced, Teres Major select steak topped with blue cheese crumbles on a salad of red onion, carrots, yellow bell peppers, tomato, candied pecans, blue cheese dressing and a balsamic glaze drizzle. - 20
Recommended pairing: Cabernet Sauvignon, Cab Franc, Tempranillo, Tripel Belgian
Salmon Salad
Salmon filet served on a bed of spinach, fried capers, goat cheese, grapes, carrots, walnuts, black olives, and lemon zest vinaigrette. - 18
Recommended pairing: Pinot Noir, Blond ale
Chicken Skewer Salad
Two chicken skewers on a bed of spring mix, tomatoes, carrots, onions, yellow bell peppers, black olives, candied pecans and mozzarella with basil vinaigrette. - 17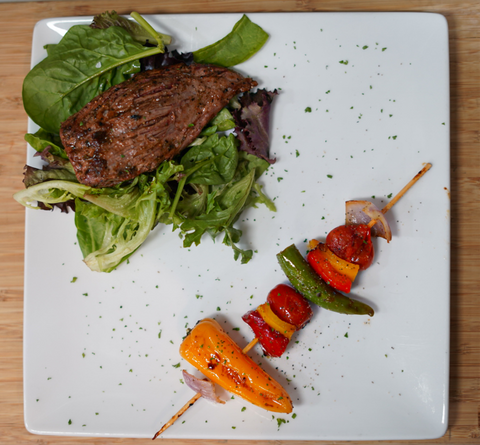 Carne Ole! *
House seasoned Teres Major steak served with a specially seasoned skewer of red and yellow bell peppers, red onions and a serrano pepper - 25.50
Recommended pairing: Bold reds, Tempranillo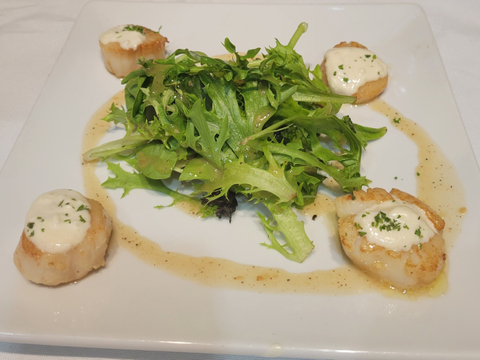 Pan Seared Scallops *
Topped with a ginger/coconut milk sauce on mixed greens with a ginger vinaigrette salad. Market Price
Recommended pairing: Unoaked Chardonnay, Sauvignon Blanc or White Blends, Mead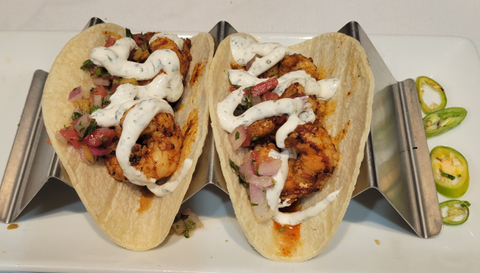 Spicy Shrimp Tacos *
Spicy, house-seasoned shrimp with a corn tortilla topped with mango pico de Gallo and cilantro lime cream sauce (2 to an order) - 17.50
Recommended pairing: White Bordeaux or White Blend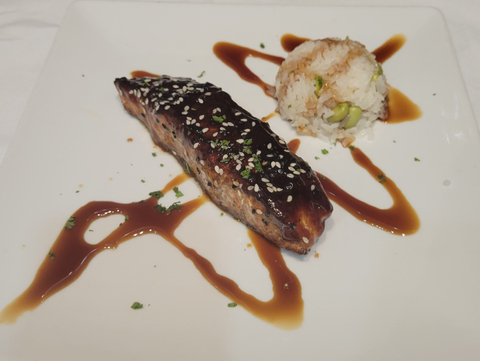 Hoisin Salmon *
Cooked in Hoisin sauce, seasoned with black and white sesame seeds & served with edamame jasmine rice - 17
Recommended pairing: Aromatic white wine or sparkling rose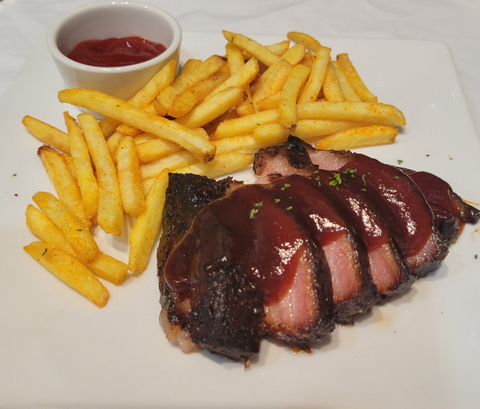 Spicy Pork Belly *
Oven-baked and topped with a serrano pepper-infused rum and orange juice barbeque sauce served with seasoned fries - 15
Recommended pairing: Pinot Noir, Zinfandel, Amber Ale - 14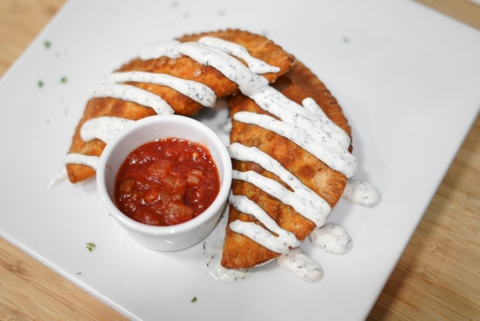 Beef and Potato Empanadas
Specially seasoned beef and potato with Manchego cheese in a deep-fried empanada crust (2 to an order). Served with salsa and drizzled with a sour cream cilantro lime sauce - 12
Recommended pairing: Malbec - 12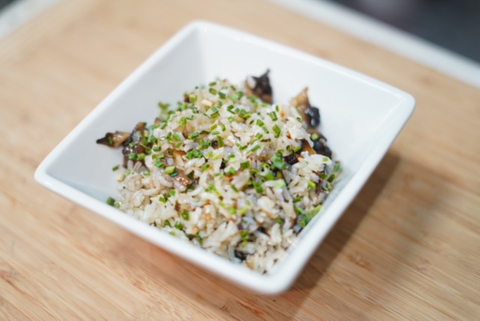 Jasmine Rice and Mushrooms *
Cooked with coconut milk and mixed with a mushroom medley sautéed in a white wine and spices - 9.50
Recommended pairing: Pinot Noir, Aromatic white varieties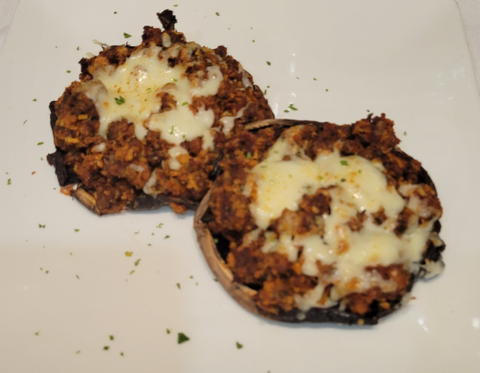 Stuffed Portobello (New)
Large Portobello stuffed with a specially seasoned mix of country sausage, chorizo, Panko bread crumbs, bell pepper and onion. Topped with manchego cheese and baked. 17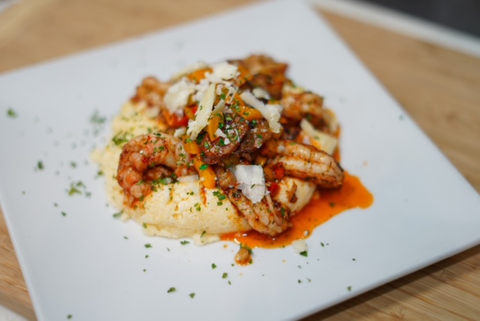 Polenta and Shrimp *
Creamy, cheesy polenta served with house seasoned shrimp, conecuh sausage and a bell pepper and onion mix. 17.50
Recommended pairing: Riesling or Viognier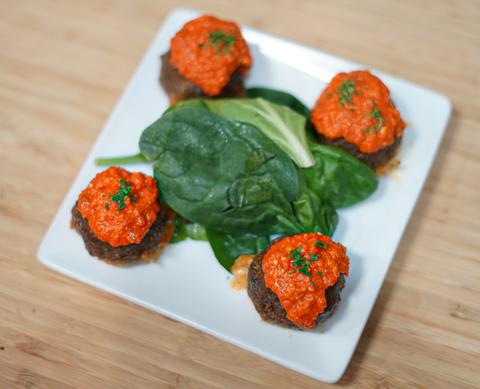 Beef and Pork Stuffed Meatballs
Stuffed with manchego cheese, topped with romesco sauce. 4 to an order - 10
Recommended pairing: Spicy red blends, Sangiovese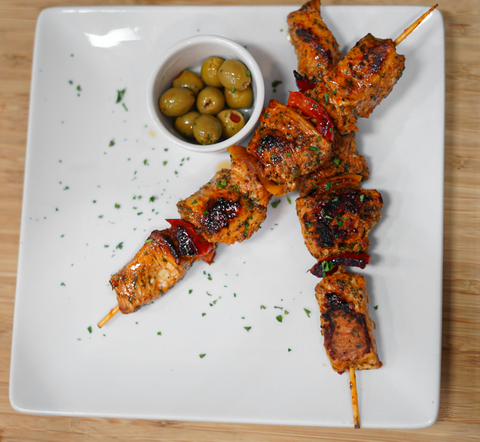 Chicken and Pepper Skewers *
Skewers with marinated Spanish seasoned chicken with red and yellow peppers.
Two skewers 14 Three skewers - 21
Recommended pairing: Shiraz, Zinfandel, Malbec, Saison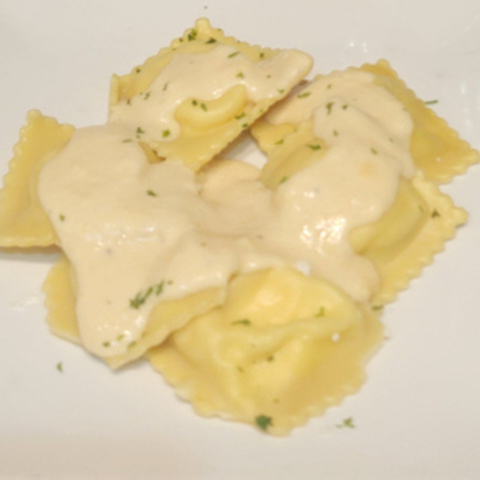 Lemon Ricotta Ravioli
Six Ravioli with a lemon zest alfredo sauce - 16.50
Desserts and After Dinner
TEXAS TEMPTATION
Blue Bell® Vanilla Bean Ice Cream on a warm brownie with buñuelo chips drizzled with raspberry and caramel sauces, sprinkled with cinnamon sugar 9
FLOURLESS CHOCOLATE TORTE
Fudge bundt cake dipped in chocolate ganache (gluten free) 7.5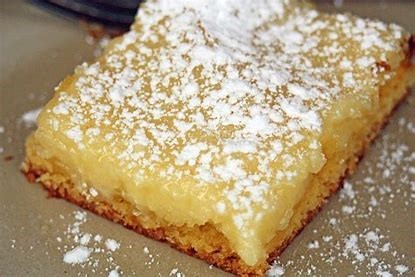 GOOEY BUTTER CAKE
rich, dense yellow cake with a baked cream cheese layer 7
ANCHO CHILE CHOCOLATES
Four dark chocolate pieces infused with ancho chili 8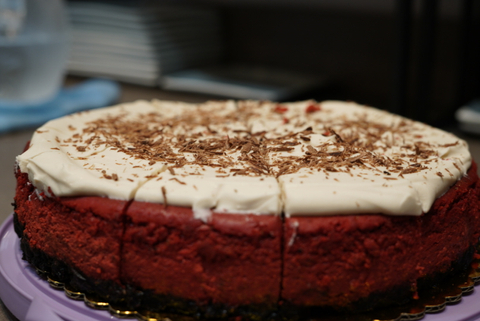 RED VELVET CHEESE CAKE
Oreo crust with a cream cheese icing 8.5
About Our Small Plate Menu
Our menu features a wide selection of shareable small plates, tapas-style dishes, charcuterie boards, and more, perfect for social dining with friends and family. We believe that good food is meant to be shared and enjoyed together, and our menu is designed with that philosophy in mind. The dishes we offer are crafted with a focus on high-quality, fresh ingredients with a commitment to flavor and presentation.
Wine and Tapas Pairings
To complement our delicious cuisine, we offer a carefully selected wine list. Our wine flights and whiskey flights are the perfect way to sample different pairings and flavor profiles, and our cocktails are expertly crafted with quality ingredients and creativity.
Find Your New Favorite Dish
At Flight Plan Wine and Tapas, we believe that every dining experience should be unique and unforgettable. We welcome you to enjoy our cuisine, wines, and atmosphere with us and look forward to introducing you to the unique flavors of our menu.